SEE CHANGE: l.a.Eyeworks' WELLS frame benefits Art For Justice Fund
SEE CHANGE
l.a.Eyeworks is designating proceeds from the worldwide sales of its WELLS frame to benefit the Art for Justice Fund, which invests in artists and advocates working together to end mass incarceration. Philanthropist and arts advocate Agnes Gund launched the Art for Justice Fund in 2017 as a five-year "catalytic" initiative to address inequality in the U.S. justice system. The WELLS frame, named in honor of journalist and civil rights pioneer Ida B. Wells (1862-1931), is a generous rectangular design, available in six customized colors (click here to see WELLS).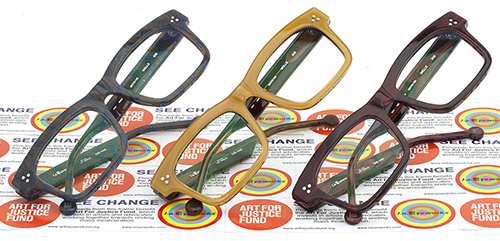 "After much discussion, we agreed the most purposeful way l.a.Eyeworks could respond to the urgent questions confronting us was through our eyewear designs," said l.a.Eyeworks President Rob Rich.
"Given our deep love for artists and our ongoing advocacy for freedom of expression," adds l.a.Eyeworks co-founder/designer Gai Gherardi, "we felt a strong alignment with the Art for Justice Fund's conviction that art gives agency to those who are denied visibility and paves the way to drive change forward."
"We're grateful for l.a.Eyeworks' partnership in lifting the human impact of mass incarceration. Art for Justice invests in artists and policy advocates who tell the stories of the mothers, fathers and friends who are caught behind bars. Learning other people's stories makes us more human – giving us the gift of seeing the humanity of people enmeshed in the system and inspiring us all to imagine alternatives to prison," said Agnes Gund.
l.a.Eyeworks' campaign to benefit the Art for Justice Fund extends its legacy of benefiting social causes, which has included Planned Parenthood, the National Campaign for Freedom of Expression and the Aileen Getty House for Women with AIDS.
Click here to learn more about the Art for Justice Fund.